"In 1937, we brought electricity to rural northeast Michigan using the cooperative business structure. In 1994, we did it again with natural gas; and to do it now with fiber is simply the next step in our development as a trusted energy and community partner. We're excited to do that."
"We're excited to be bringing this vital service to our membership. We know it's been a need for a long time and we're committed to doing it in a way that's going to be here for a long, long time. We believe we are holding true to our mission to provide services that are going to enhance the quality of life in our region for our members and we're using the cooperative business structure to do it."
As a former mayor of his hometown and a member of several community economic development boards, Tom Sobeck, CEO of Presque Isle Electric & Gas Co-op, never had any doubt that bridging the digital divide with the introduction of high-speed fiber broadband is what was his service territory in northeast Michigan needs to attract new businesses and residents to the beautiful but remote region.
"I view access to high-speed internet as the last, best highway that we can build into our region that promotes economic growth and sustains the economies that we have," Sobeck said. "The simple fact is the infrastructure in northeast Michigan isn't designed to bring large manufacturers or large employers. We are off the beaten path – a disadvantage when you're trying to attract businesses and new residents. Broadband will remedy that."
Presque Isle Electric & Gas Co-op, known as PIE&G to the utility cooperative's 31,000 members, is building a 3,220-mile fiber-to-the-home network that will drive economic growth and development in the nine counties the cooperative serves. The $125 million project is anticipated to be completed within 4 years, with the first customers expected to be connected in 4Q 2021.
"At the beginning, we didn't have any experience with fiber or telecommunications. To presume we could just walk out the door and expect to be successful – it's not going to work. We know there needs to be a relationship with somebody in the industry who has that expertise, that we can use to gain that expertise over time. Conexon 'gets' co-ops. That's a simple phrase but not exactly a simple concept. The level of understanding there is huge."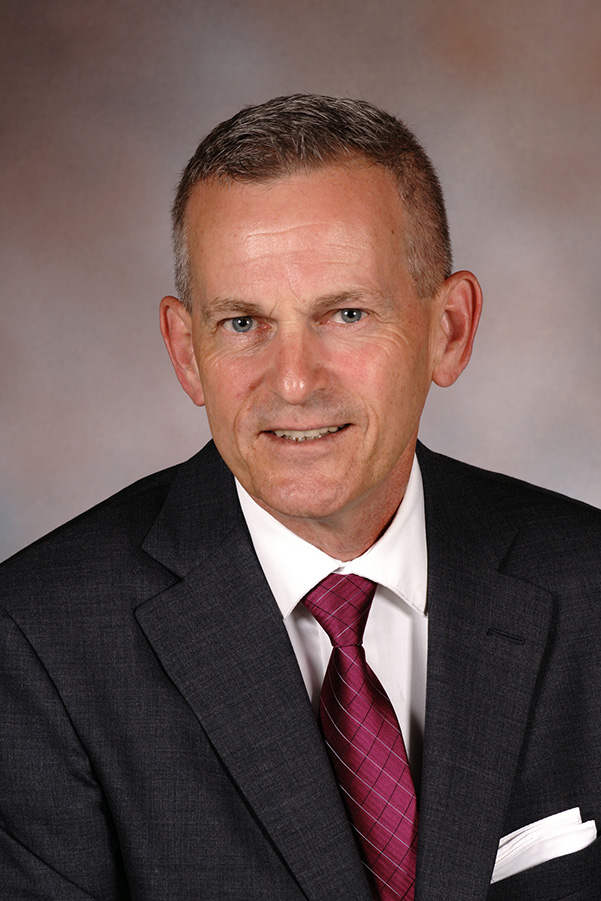 Tom Sobeck
CEO, Presque Isle Electric & Gas Co-op
"In 1937, we brought electricity to rural northeast Michigan using the cooperative business structure. In 1994, we did it again with natural gas," Sobeck said. "To do it now with fiber is simply the next step in our development as a trusted energy and community partner. We're excited to do that."
PIE&G's unique service territory has over 36,000 electric meters as well as over 13,000 natural gas meters, one of the few co-ops to offer dual services. Because of the abundance of natural resources and recreation opportunities in the area, the tourism sector is vast and approximately 40% of cooperative members are seasonal. Combined with an average density of 7.4, the challenges of building a profitable fiber network were real but not insurmountable.
Sobeck and his leadership team took a measured approach to their research, speaking with other cooperatives, surveying the membership and community organizations, and tapping into local economic development groups for insights. All the feedback was the same: The need for high-speed internet was there, and the potential to transform the community was significant. After a thorough and deliberate decision making process, the co-op's Board of Directors agreed.
"We're excited to be bringing this vital service to our membership. We know it's been a need for a long time and we're committed to doing it in a way that's going to be here for a long, long time," Sobeck said. "We believe we are holding true to our mission to provide services that are going to enhance the quality of life in our region for our members and we're using the cooperative business structure to do it."
Sobeck first met Conexon Partner Jonathan Chambers five years ago at a symposium on the availability of funding for fiber buildouts in rural America. "Back then, Jon was already advocating that if anyone was to achieve success, it would be electric cooperatives. We've already done it with the electric grid, so we know how to do it, we understand rural America, and Jon understands that co-ops understand that," Sobeck said.
PIE&G started working with Conexon on an initial feasibility study and then selected Conexon to guide the cooperative through the Federal Communications Commission's recent Rural Digital Opportunity Fund (RDOF) Phase I auction process. PIE&G was awarded $11.2 million in RDOF funding as a member of the Conexon-led Rural Electric Cooperative Consortium.