Total miles of fiber
5,800
In 1941, Mountain View Electric Association's first members gathered at the Black Forest Community Center in Colorado Springs, Colo., and made the decision to form an electric co-op, bringing life-changing electric power to the rural areas, farms and ranches others refused to serve. This week, 80 years later, MVEA leadership led by CEO Jim Herron and Board Chairman Joe Martin gathered at the community center once again to announce plans to bring about another revolution – high-speed fiber broadband to its service territory in Colorado, including the suburbs of Colorado Springs.
The electric cooperative is teaming up with Conexon Connect to launch and deploy a nearly 5,800-mile fiber-to-the-home (FTTH) network that will reach 100% of the co-op's members in the portions of its eight counties served in Colorado. The $190 million network is expected to be completed within five to six years, with first customers anticipated to be connected in 2Q 2022.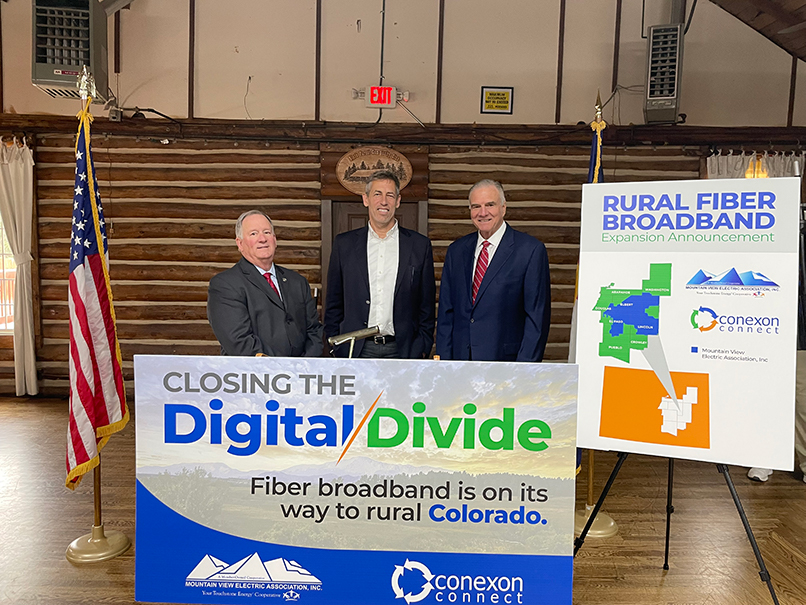 "We are proof that small groups of people can make a significant impact on their community for generations to follow," Herron said. "It is a legacy we are proud of, and one that we look forward to continuing as we partner with Conexon Connect to close the digital divide through world-class fiber broadband internet."
Today, MVEA serves more than 51,000 members across a 5,000 square-mile service territory. The co-op continues to grow, adding about 2,000 members each year as new homes are built and residents move in. But despite continuous growth, the area still has almost no options for internet access: Herron estimated that only a few hundred co-op members have viable broadband options. Even the newest subdivisions in El Paso County near Colorado Springs have the same limited service options as the more rural towns.
Because of the overwhelming need, broadband is a project that has been over 25 years in the making for MVEA! The co-op had long sought a partner with which to develop and deploy a broadband network and better serve its communities. A few years ago, fiber was out of reach. But the picture changed with Conexon Connect's business plan proving the economic feasibility for MVEA to provide the service to the membership.
"The partnership with Conexon Connect is a model that fits the needs of the cooperative, benefits the members, and received unanimous support from MVEA's Board of Directors," Martin said. "It will enable MVEA members to access a world-class broadband network without electric rate adjustments to subsidize the buildout or deployment."
Earlier in 2021, Conexon Connect was launched as the internet service provider arm of rural fiber broadband leader Conexon to operate and manage cooperative and investor-owned fiber-to-the-home networks. The Connect model – in which the co-op builds and owns the network, enjoying the benefits of fiber on its infrastructure, while leasing the fiber to Connect to deliver high-speed internet – simplifies the cooperative's role in launching and operating an FTTH network for its membership. Connect leverages the best practices learned from the Conexon team's decades of experience.
Conexon Connect participated as part of Conexon's Rural Electric Cooperative Consortium, a bidding entity awarded more than $1.1 billion through the FCC's Rural Digital Opportunity Fund Phase I auction to deliver broadband service at the gigabit tier. The Connect awards encompass dozens of electric co-op territories throughout 10 states and will result in lightning-fast symmetrical broadband service to more than 2 million Americans – fiber to 100% of rural homes and businesses in all the territories awarded in the RDOF auction.