"I was at a restaurant and one of our customers mentioned to me 'Why don't you all do broadband internet? You all brought electricity to us in the 1930s, you all could be the answer,'" Randy Crenshaw, President and CEO of Middle Georgia EMC, recounted about the EMC's member need for high-speed internet. "It wasn't a year later we were introducing our fiber-to-the-home (FTTH) project."
This moment was just one of many Crenshaw recalled that sparked the EMC to begin exploring how to bring broadband to its members.
Middle Georgia EMC (MGEMC) serves extremely rural, residential farming communities in central Georgia and faces several challenges when it comes to internet in its communities. "One of the big issues we have in our territory is unreliable service," said Sylandi Brown, MGEMC Marketing and Communications Specialist. "There's such an apparent need in our community and we've seen it."
"For co-ops who are considering broadband-- explore feasibility and do your research, but I also encourage you to go back to the basics and remember who we are as cooperatives."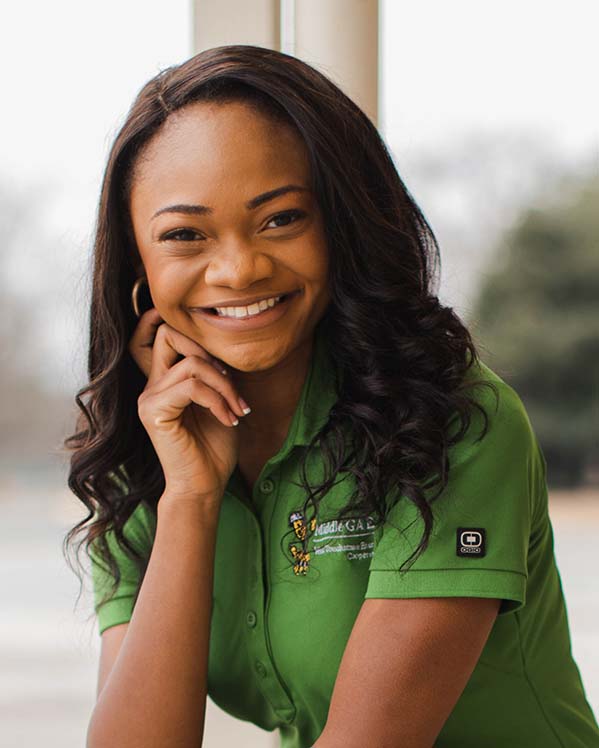 Sylandi Brown
Marketing and Communications Specialist, International Cooperative Research Group
After research, Crenshaw and the EMC team quickly decided it was going to bring broadband to its members even if the funding wasn't secured. They decided to move forward with the project, while searching for a partner to help with a project of the magnitude needed to serve 100% of EMC members. Given the cooperative's distinctive agricultural membership make-up, it sought out a partner that could understand the unique challenges the EMC was facing and could help every step of the way. In 2021, the EMC partnered with Conexon Connect to launch the journey that will result in a nearly $40 million, 1,500-mile FTTH network to provide high-speed internet to all 4,800 members.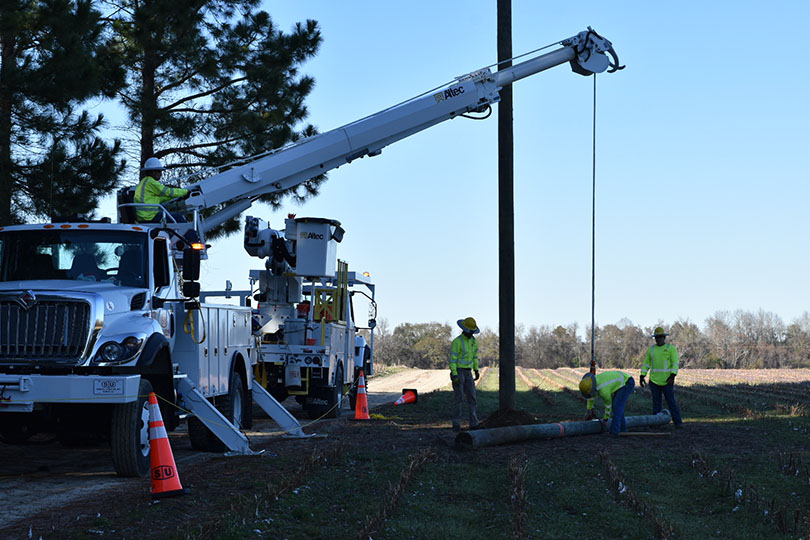 Excitement around the MGEMC project buzzed as construction started, but laying fiber on farmland while crops were growing wasn't an easy task. With Conexon's innovative technique, however, crops and the farmland were left unharmed while closing the digital divide.
"Conexon has designed the build to go through the field underground and not interrupt the farmer or the crops – you can't even see Conexon has been there," Crenshaw said. "Our competitors are tearing up everything and we've gotten a lot of positive feedback and a lot of credibility in our construction methods that Conexon provided."
The positive feedback from community members has also been astounding. "When we announced last year, that was such a huge moment," Brown said. "We had such an outpouring of support from so many different community partners, school systems, chambers, economic development, council members, and community members in general because everyone understands how this is going to change the trajectory of our community in a really great way."
"We knew about Conexon from the company's work in north Georgia with co-ops. What really sold us in the end was Conexon's corporate employees being co-op based."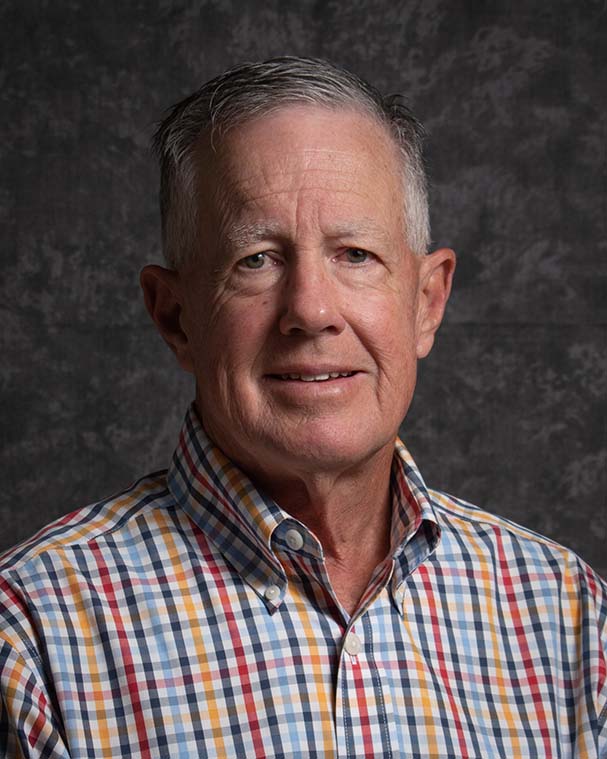 Randy Crenshaw
President and CEO, Middle Georgia EMC

Though the EMC's project timeline has adjusted due to supply chain issues, its goal remains the same: to connect 50% of its members within the next six months. "There have been challenges, but there also have been great significant moments," Brown said. "From a make-ready engineering and construction standpoint, the supply chain issues posed a potentially big issue for the advancement of the project. However, we have a great team working here collaboratively between our operation staff and Conexon employees to make sure we can leverage those connections to have the materials that we need."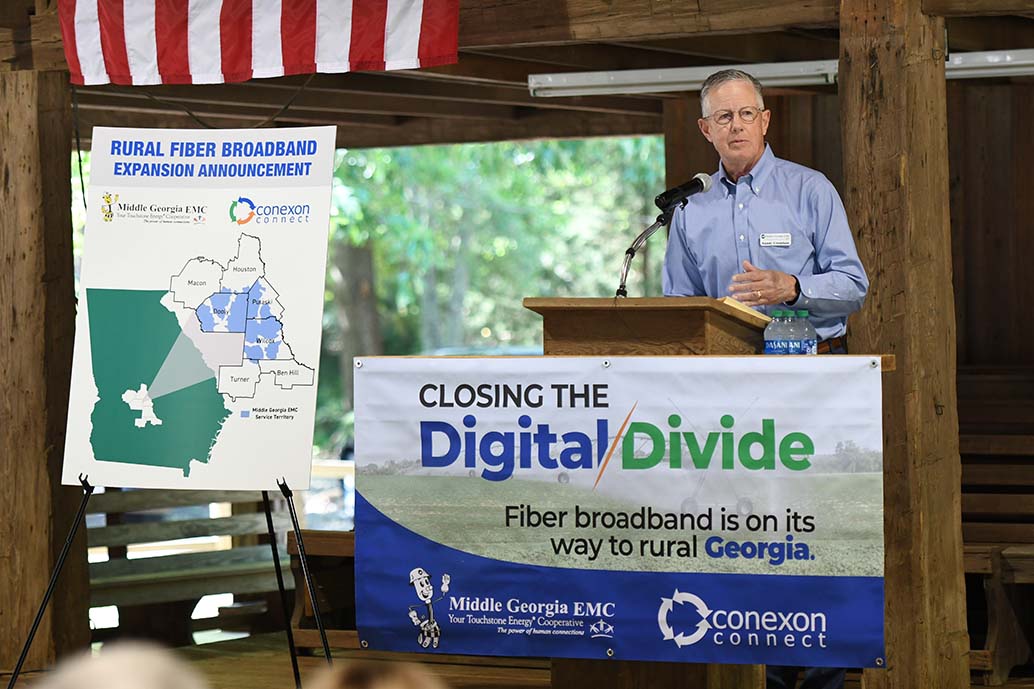 As the FTTH project progresses, Crenshaw is hopeful the project will take off exponentially once the first customers are connected in mid-2022. "Once we start hooking up the first customers, that train will pick up speed. Once that train is on the track, we'll be speeding up significantly because we'll have the system perfected. We're going to be able to finish in a two-year timeframe," Crenshaw said.
From the beginning, Middle Georgia EMC has been truly guided by its co-op members to become the answer the community needed when it came to broadband. For other co-ops who might be looking to be the answer to broadband in their communities as well, Brown had a strong message.
"For co-ops who are considering broadband-- explore feasibility and do your research, but I also encourage you to go back to the basics and remember who we are as cooperatives," she said. "Remember what we're founded in, look back and take a moment to think about what the cooperative identity means and has always meant, whether in 1940 or 2022. Our services may evolve based off the needs of our membership."
Middle Georgia EMC projects to have its first first customers connected in Q2 2022 with a project timeline of 2 years.