Total miles of fiber
1,900
Eighty-five years later, the co-op is poised to usher in another new day – one powered by world-class fiber broadband. The co-op is teaming up with Conexon Connect to launch and deploy a 1,900-mile fiber-to-the-home (FTTH) network that will reach 100% of the co-op's members in its eight-county service territory. The $49 million network is expected to be completed within two to three years, with first customers anticipated to be connected in summer 2022.
"Back when our cooperative was formed in 1936, this community became a place where the impossible finally became possible," President and CEO Randy Crenshaw said. "Connecting our members to broadband feels the same – what we are doing is so much more than internet. The benefits to our local economy will be huge, but the biggest impact of all will be on the daily life of our members."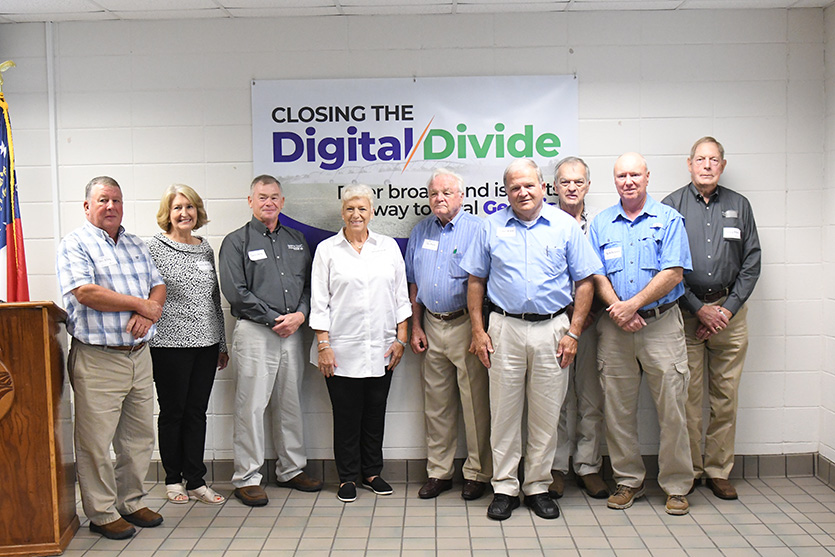 Crenshaw noted that in the EMC's territory, access to reliable internet has been an ongoing challenge. Many of its 8,400 members don't have internet at all, and those lucky few who do have a connection find it slow and unreliable. Many members are forced to rely on mobile hotspots and/or cell phone data packages on a daily basis instead.
Irwin EMC leadership recognized years ago that broadband – reliable, affordable and high quality – was the key to community and economic transformation. Being able to work and learn from home, receive quality healthcare virtually, and stay connected to family and friends have become imperatives, rather than luxuries. Technology is critical for improving production and simplifying farm operations in the agriculture-rich region, and local businesses stand to see vast improvements in communication and productivity with faster internet speeds. All of these factors are vital for growing the local economy and attracting residents to the area's rural communities. It is with these goals in mind that Irwin EMC has embarked on its broadband journey, partnering with Conexon Connect.
"Improving our members' lives by bringing electric power in the 1930s is where it all began but the expansion of our mission to bring affordable broadband service to our members as well will be a journey that ends with limitless possibilities for our members," Crenshaw said. "With the help of Conexon Connect, we have already started working to close the digital divide in Georgia with every mile of fiber we are designing and planning, and down the road, with every member we connect. We couldn't be more excited for the future."
Earlier in 2021, Conexon Connect launched as the internet service provider arm of rural fiber broadband leader Conexon to operate and manage cooperative and investor-owned fiber-to-the-home networks. The Connect model – in which the co-op builds and owns the network, enjoying the benefits of fiber on its infrastructure, while leasing the fiber to Connect to deliver high-speed internet – simplifies the cooperative's role in launching and operating an FTTH network for its membership. Connect leverages the best practices learned from the Conexon team's decades of experience.