Serving more than 109,000 meters, Cumberland Electric Membership Corporation (CEMC) in middle Tennessee is one of the largest electric cooperatives in the nation to take on building a fiber-to-the-home (FTTH) network for its members through its broadband subsidiary, Cumberland Connect. Shortly after the state law passed allowing co-ops to provide broadband service to its members, CEMC started make-ready construction in 2019 and has been going full speed since the first member was connected in May 2020. Today, the cooperative has over 18,000 members connected with take rates averaging 33%.
A cooperative of CEMC's size required strategic backing when scaling operations for its fiber subsidiary, Cumberland Connect. The cooperative partnered with Conexon to conduct a feasibility study which followed a holistic and thorough assessment of CEMC's ability to deploy the FTTH network in the most efficient way possible, which included building a talented team.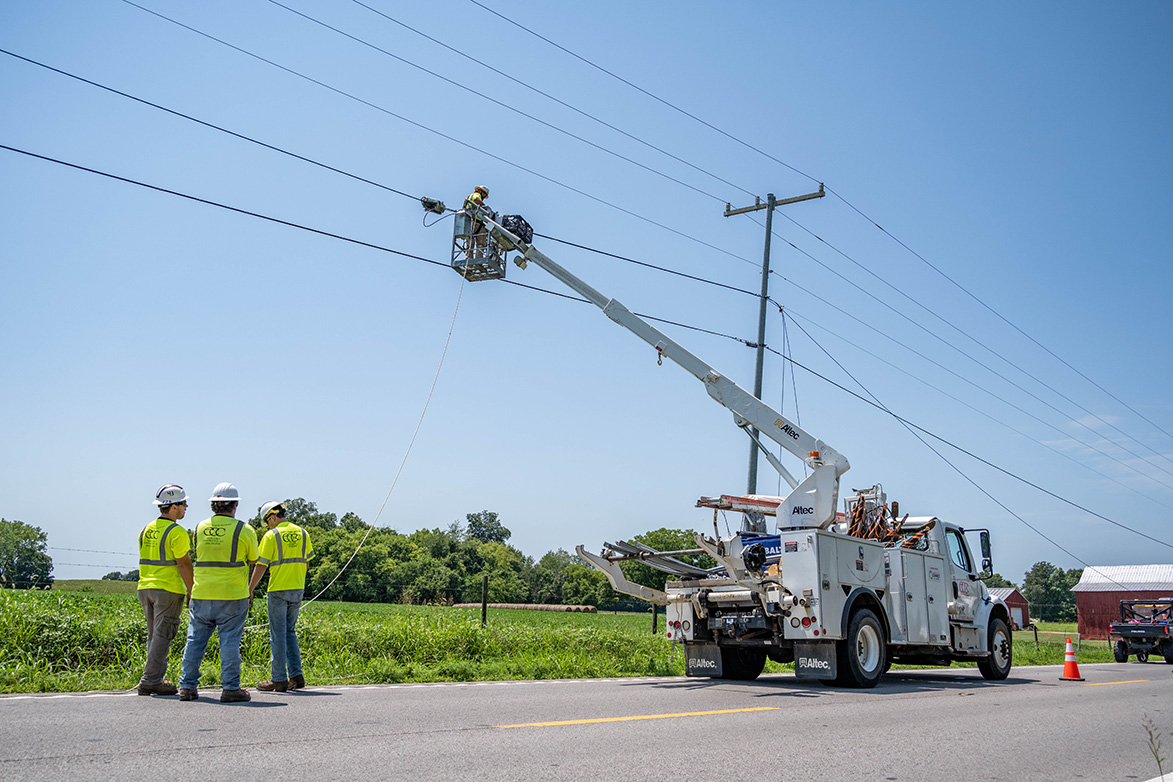 "While this may not have been the best strategy for revenue early on, we approached this project by reaching those members who had the most need."
Chris Davis
General Manager, CEMC
"We have hired approximately 60 people so far, and as our subscriber base continues to grow, we are constantly eyeing whether to bring on more support," said Mark T. Cook, P.E., broadband division manager of Cumberland Connect. "We had key early hires before construction began that helped us brainstorm and manage how we would launch these systems, which helped us achieve our rapid growth with this project." CEMC recommends that other cooperatives looking to take on a FTTH project should prioritize building a solid team, whether bringing talent on internally or outsourcing.
The cooperative has built out over 3,000 miles of fiber since the project began at the end of 2019 and has focused on building to their underserved members first.
While 80% of CEMC's membership is served by competitors, that leaves 20% of members who are underserved or completely unserved. The 20% underserved membership was the cooperative's drive for taking on the project and became the center of its construction strategy. "While this may not have been the best strategy for revenue early on, we approached this project by reaching those members who had the most need," said Chris Davis, general manager of CEMC.
When the cooperative began building out to the 80% of members that were served by competitors, there was not a drop in overall take rates. "While we certainly have competition in some areas, we were not scared of it when we started building in those territories," Cook said. "We knew our model of fair and transparent pricing, matched with our excellent customer service, would help us stand out from competitors, so we are still seeing healthy take rates overall."
CEMC continues to make great strides in deploying a FTTH network and providing high-speed internet, phone and TV services for its members. Davis and Cook are looking forward to continuing their growth and delivering access to world-class broadband services backed by the co-op's mission of service.