January 8, 2020 – 3:40 pmBy Ajit Pai | FCC Chairman

This week, I and 170,000 of my closest friends are kicking the new year into high gear at the Consumer Electronics Show in Las Vegas. This annual pilgrimage for high-tech enthusiasts offers a glimpse into our digital future. Like the many entrepreneurs with booths on the show floor, the FCC is committed to helping unleash the breakthroughs of tomorrow. And one important part of our mission is equality of digital opportunity—we want all Americans to benefit from these breakthroughs. For that to happen, they need access to high-speed broadband networks.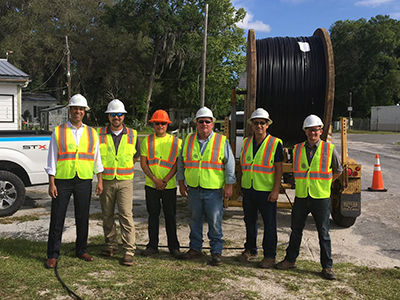 Since I became Chairman in January 2017, we've made considerable progress in making high-speed broadband available to more Americans. In 2018, for example, fiber was deployed to more new homes in the United States than any year since they've been keeping track. And in 2019, we beat that 2018 record for fiber deployment, setting an all-time high for the second straight year.
But our work isn't yet done. So today, I'm sharing with my fellow commissioners a draft order that would establish the Rural Digital Opportunity Fund, a modern approach for connecting those hardest-to-serve corners of our country. At the FCC's January open meeting, we'll vote on this order—our biggest step yet to close the digital divide.
The new Fund will provide up to $20.4 billion over the next decade to support the deployment of high-speed broadband networks in those parts of rural America that currently lack fixed broadband service that meets the Commission's baseline speed standards. To maximize the impact of these investments, we will use a multi-round, descending-clock reverse auction. The Commission used this same reverse-auction approach in 2018 for Phase II of our Connect America Fund, and it helped us fund the deployment of high-speed broadband to 713,000 unserved rural homes and businesses for just 30% of our projected cost.
And we don't want millions of rural Americans to wait longer than necessary to obtain the economic, educational, and healthcare opportunities provided by high-speed broadband. That's why I'm proposing that we divide the Rural Digital Opportunity Fund into two phases. Phase I would provide up to $16 billion to fund the deployment of high-speed broadband in census blocks where we know that there's not any service available meeting the Commission's baseline speed standards. Based on our initial estimates, almost 6 million homes and businesses in rural America would be eligible for Phase I of the Rural Digital Opportunity Fund. And then, once we complete our efforts to update our broadband maps to more precisely identify connectivity gaps, we will move forward with Phase II, which will cover unserved households in census blocks where some households are served, as well as areas that don't receive funding in Phase I.
We also want to prioritize the deployment of broadband networks that will meet the needs of tomorrow as well as today. Congress has called on the Commission to fund sustainable and forward-looking networks that will stand the test of time. I agree. That's why, in addition to more than doubling the minimum speed required of bidders in the Connect America Phase II auction, I'm proposing a significant additional measure to favor the deployment of faster services. Once the reverse auction in Phase I hits the clearing amount of $16 billion, a bid to provide faster service to an area will automatically be chosen over a competing bid to provide slower service to that same area.
The Rural Digital Opportunity Fund has the potential to transform the lives of millions of our fellow citizens in rural America and revitalize parts of our country that are currently being left out of our digital economy. That's why I hope that my colleagues will join me on January 30 in supporting this bold initiative.
Just as we want all Americans to have access to high-speed broadband service, we want the tens of millions of Americans with hearing loss to have access to advanced smartphones, like everybody else. The Commission has long-standing rules that require both manufacturers and service providers to make available handsets that meet specified technical criteria for hearing-aid compatibility. In 2019, the American National Standards Institute adopted new technical specifications, but the Commission's rules are still based on outdated standards from 2011. To reflect technological advances, I'll call a Commission vote at our January meeting on a proposal to incorporate the new standard into our rules.
For Americans with more severe hearing loss, Video Relay Service, or VRS, has been critical to helping them use American Sign Language to communicate with voice telephone users. To improve the effectiveness of this vital service, the Commission launched a pilot program in 2017 to allow qualified sign-language interpreters to work as communications assistants from home workstations as opposed to requiring them to work at call centers. The pilot has shown that in-home interpreters can work as efficiently and effectively as those in call centers and that our safeguards can both impede waste, fraud, and abuse and maintain the privacy of communications. That's why I've proposed to my colleagues to make the at-home call-handling program permanent.
The year on the calendar might have changed, but one thing that hasn't is the Commission's drive to update rules as part of our Modernization of Media Regulation Initiative. The central idea behind this effort has been to match our rules to the realities of the current media marketplace, and a recurring theme of this effort has been replacing wasteful and costly paper notifications with electronic notifications. Currently, cable and satellite operators must provide broadcast TV stations with notice by paper delivery before they take certain actions. For example, cable operators must give notice by paper before they commence service in a market or delete or reposition a broadcast station. Satellite television providers must similarly give notice by paper prior to retransmitting certain stations or launching new services into a market. Last July, we proposed making these paper notices electronic instead. Commenters unanimously supported this common-sense idea, and, in three weeks, the Commission will vote on an order that will require these notices to be transmitted electronically.
Rounding out the Commission's first open meeting of 2020 will be an item from our Enforcement Bureau. You'll have to check back on January 30 to get the details.
For the fourth year running, my biggest New Year's resolution at the office was to work to bridge the digital divide and provide more Americans digital opportunity. With the Commission's January agenda, we're set for a great start toward achieving that goal. Here's wishing everyone a happy and healthy new year!
Read the original article on fcc.gov/blog